Content Becoming A Matchmaker For Channel Marketers To Support Partner Programs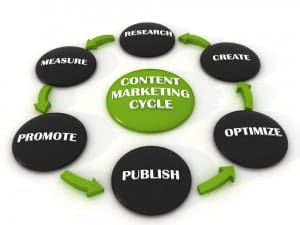 Content is quickly becoming a critical part of the equation for all B2B marketers, especially in the channel, where partners are looking for tools to drive leads and engagement at a local level. With 90% of organizations utilizing content in some shape or form, according to the Content Marketing Institute, white papers, E-books, videos, webinars and infographics are becoming must-have tools to drive company mindshare and profit. And this trend is carrying through to the channel.
"To truly engage an audience, partners need valuable content," said Heather K. Margolis, Founder of Channel Maven Consulting, in a recent Channel Marketer Report article. "In order to get a visitor to fill out a registration form or connect on LinkedIn, partners must offer valuable content like an E-book, video or white paper that helps solve a specific pain point."
Content will be a key differentiator in channel marketing in 2012, especially in emerging markets, Michael Kelly, Managing Director of TSL Marketing, added. "Content equals credibility in the eyes of buyers, and therefore different types of content must be made available at different stages of the buying process."
To cash in on the growing influence of content, industry experts stress that channel marketers must align and map content to the buyer's journey.
"Content alignment is something that you also want to be sharply aware of," Cari Baldwin, Managing Partner with BlueBird Strategies, revealed in the recent webinar titled: Building A Lead Funnel. "It is important to make sure you're delivering the right message to the right audience at the right time, and ultimately, helping prospects drive themselves through the buying process effectively."
Tapping Into The Buyer Mentality: A Framework For Content Optimization
To ensure in-house sales and marketing teams — as well as partners' teams — aren't sharing the wrong messages at the wrong time, a vital first step is understanding the phases and degrees of consideration within the buying journey, which include the following areas, according to Corey Eridon, Inbound Marketing Manager at HubSpot, in a recent blog post:
Awareness: During this stage, leads are in the early searching phases, and have either recognized a need for a specific solution, or are initially becoming aware of a specific company's product/service.
Evaluation: Following general research processes, either via web or social media, leads learn that a specific product or service fulfills individual and corporate pain points. During this time, they're trying to determine whether a specific solution — or which solution among a broad selection — is the best fit.
Purchase: The decision-making process is nearly complete, and leads are eager and willing to purchase a solution.
By conducting a content audit, during which existing content resources are tracked and categorized, organizations can then develop a content calendar of current items, as well as new collateral, and align them within each stage. For channel marketers, experts recommend that all content should then be shared with partners in a portal or partner relationship management system. Partners also should be educated on the content mapping process, so it can be applied to their existing collateral.
Content auditing, Baldwin explained, is all about "making sure that you've got the right amount of content at the awareness stage, the education and consideration stage, and then at the vendor decision-making stage, which can be presented by marketing, or in some cases, by sales."
Connecting Prospects To Your Content
To ensure prospects are educated on solutions across digital touch points, vendors and resellers must focus less on product specs and features, and more on market trends and pain points. 
"In B2B marketing, content is the lifeblood of demand generation campaigns," said Scott Gillum, President, Practice Leader of Channel Marketing at gyro. "Despite that fact that there is more content available in the public domain than ever before, relevant content that is specific to industries and/or buyers is still elusive.  Audiences don't want more content, they want more content specific to their needs and/or issues, from credible sources." 
As a result, marketers are scrambling to pump up their content marketing toolkits. On average, marketers use eight content marketing tactics to achieve their goals, according to the Content Marketing Institute/MarketingProfs report titled: B2B Content Marketing: 2012 Benchmarks, Budgets & Trends.
The most used tactics, according to the survey of 1,092 marketers, include:
Article posting (79%)
Social media (excluding blogs) (74%)
Blogs (65%)
E-Newsletters (63%)
Case studies (58%)
In-person events (56%).
However, content marketing is only effective with a firm understanding of the buyer journey and by taking a more granular approach based on the unique needs within each stage, according to Elle Woulfe, Director of Marketing Programs for Eloqua. During her presentation at the Content2Conversion Conference, titled: From Content To Customer, Woulfe spotlighted each phase of the consideration and buying process, as well as the form of content that is most effective within each stage.
"It's extremely important to not interrupt the conversation with content that doesn't belong with the specific stage," Woulfe said. "Know your buyer and leverage lead scoring to understand the dynamics of your funnel, and know where to place content, so it's easier to have conversations."
Tagged buyer journey, content, content marketing, lead, nurturing, opportunity, prospect, sales