Resource Center
Beyond the world of cold calling and batch-and-blast emails is a world full of personalized messages and compelling nurture campaigns.
This world was created by marketing automation platforms, which bake digital demand generation into marketing. As a result, businesses of all sizes can reach larger audiences and effectively target prospects. Read more →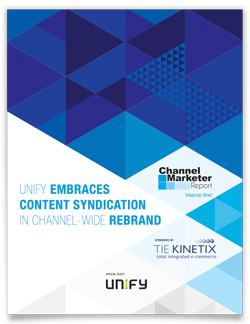 Unify, formerly Siemens Enterprise Communications, was not only faced with the challenge of rebranding its channel, but also ensuring all partners had brand-consistent content at the moment the new company name
was unveiled.
"The mission for a rebrand project is simple: to ensure everything is updated, on time and with minimal resources, while being communicated to the widest possible audience," said Robin Pilcher, Head of Global Channel Marketing at Unify, during a recent Channel Marketer Report webinar. "One thing a global rebrand does is bring all complexities of managing your brand in the partner channel into sharp focus, all at once." Read more →
In today's multichannel media and marketing world, it takes far more than sifting through business cards and connecting with prospects at random.
To succeed, businesses must constantly build, refine and engage their contact lists to build a loyal customer base. This white paper will dive into the four steps companies must take to build a quality and successful contact list, including: Read more →
Over the years, content syndication as evolved rapidly. 
Initially, vendors used content syndication to ensure brand consistency and compliance. But now, it is helping partners filter content, automatically co-brand assets and much more. 
In the future, content syndication will revolve more around the end-user experience and the ability to customize experiences for specific buyers.
Want to learn more about the next generation of syndication? Complete the form below to download the white paper, titled: A Guide To The Past, Present & Future Of Channel Content Syndication.  Read more →
The average channel partner juggles between five and 13 vendor relationships, according to research from Zift Solutions.
That is why it is no longer enough to simply register a channel partner. You must keep them engaged and educated, so they are empowered to drive ongoing revenue for your business. Read more →
At Channel Marketer Report, we focus on covering the latest trends and pain points evident in channel relationships across markets. One trend that seems to consistently surface is ensuring sales and marketing alignment through in-depth reporting and opportunity management, as well as seamless access to marketing and sales collateral.
Best-in-class vendors, however, are exceeding competitors by aligning their CRM databases with marketing automation and Partner Relationship Management (PRM) solutions. PRM solutions are designed to help bridge the gap between partners and vendors, ensuring improved results and connectivity across
the channel. Read more →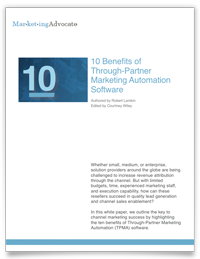 Over the last decade, sales through indirect channels have increased 26%.
As solution providers of all sizes turn to their indirect channels to drive worldwide revenue, however, they also are challenged to increase revenue attribution and determine which partners are truly delivering to the business. Read more →
To see a global organization rebrand its company is an uncommon occurrence. However, it's even more rare to see a company rebrand all products, services and messaging, and extend these new guidelines to an extensive network of channel partners.
See how a leading global B2B telecom provider is tackling this challenge and is re-launching its entire brand online, via email and social media…in minutes! Read more →
Whether you're a vendor or partner you know that "thinking globally and acting locally" is key to channel success. But sometimes, there is a severe disconnect between the content and resources vendors provide, and how partners leverage these assets in their multi-touch marketing campaigns.
And to make the marketing universe even more complicated, the rise of digital tactics, such as SEO and social media, partners are struggling to keep pace and connect with prospects through a hearty mix of communication touch points. Read more →
Although many vendors realize that content is king, they sometimes struggle to create and share content on an ongoing basis. This is especially true if they're disseminating resources and messages to several, or even hundreds of partners at a time.
Content syndication solutions can help vendors ensure brand consistency across partner networks and improve lead generation efforts. Read more →