Traditional Advertising
For companies interested in extending the reach of their brand through more traditional means, these opportunities are for you. All opportunities below leverage Channel Marketer Report's popular web site and newsletter to get your brand in front of the executives you want to reach.
Newsletter Sponsorship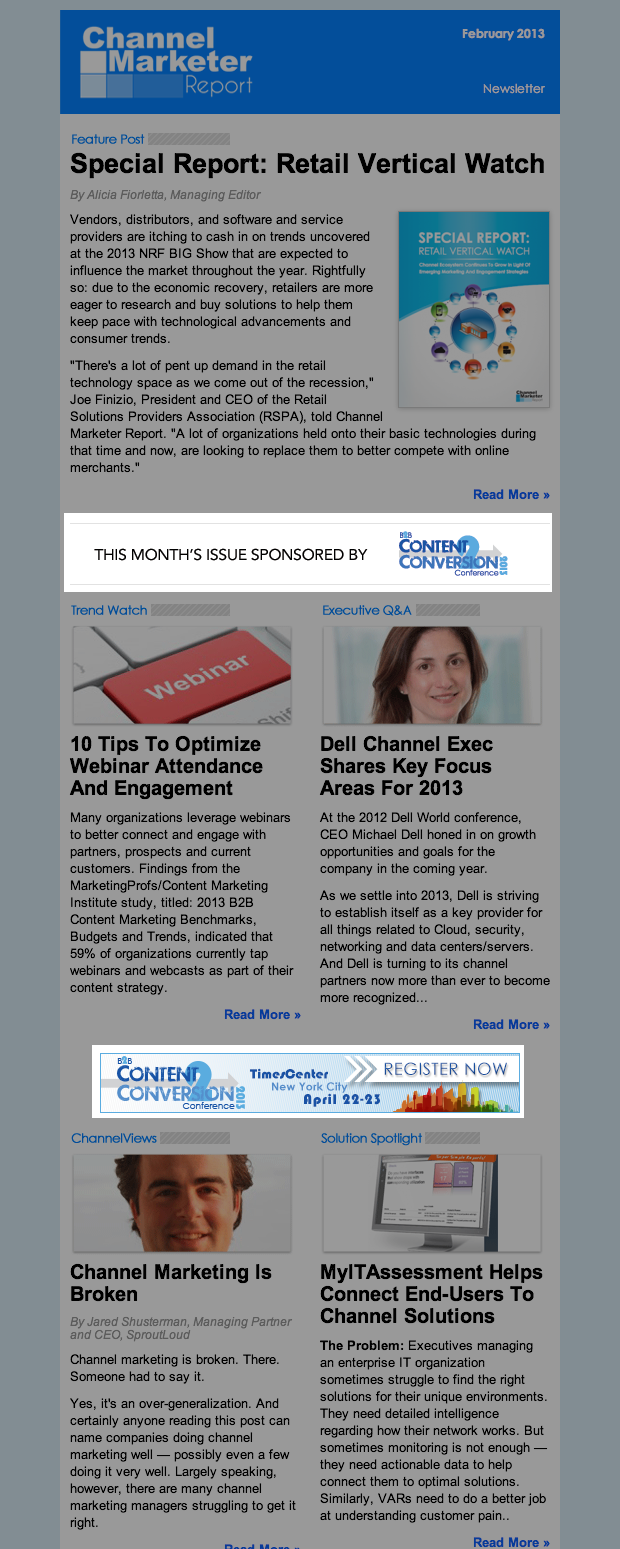 With 5,000 impressions per month, the Channel Marketer Report newsletter offers you an opportunity to put your brand or solution in front of top channel-focused executives across industries on a monthly basis. Newsletter sponsorships include:
Company Badge: This badge — located on the top right corner of the newsletter — indicates  that your company is this month's sole newsletter sponsor. The company logo included can hyperlink to a URL of your choice.
Banner Ad: Located approximately halfway down in the newsletter, this banner ad can promote your company/solution of choice, giving your brand multiple points of engagement.
Investment starting at $5,000 per month
Click sample above.
Banner Advertising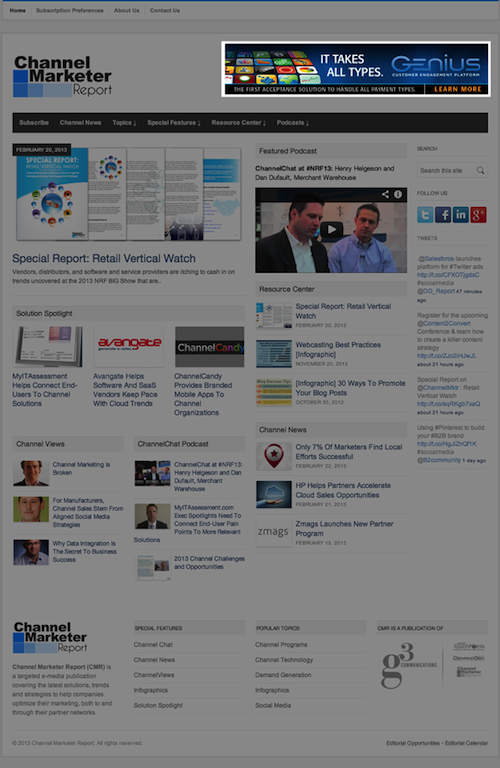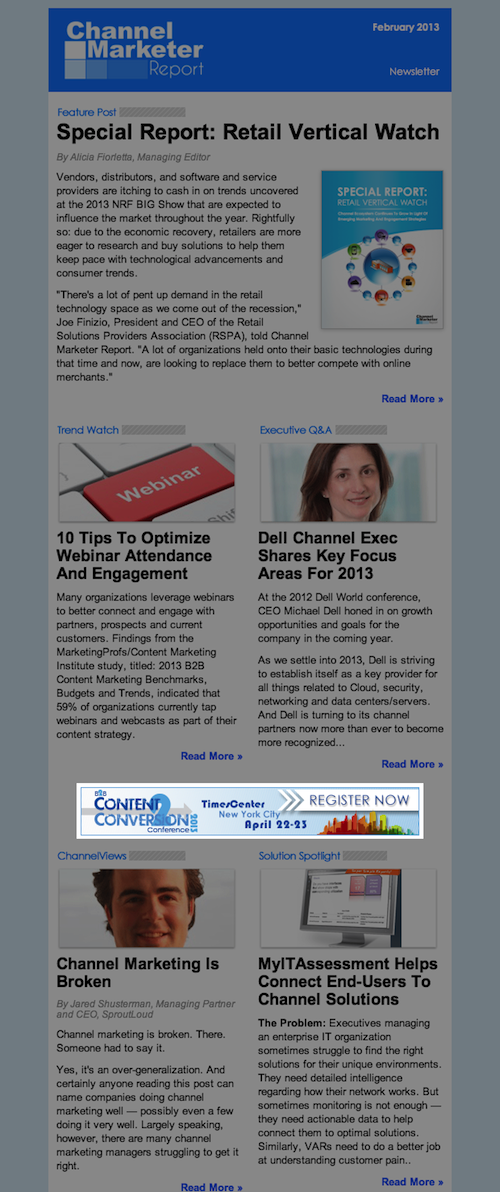 The Channel Marketer Report web site drives more than 5,000 visits per month and 2,600 unique visits per month. Placing a banner ad on the site helps you gain exposure with thousands of Channel Marketers, Program Managers and Channel Sales Professionals. Channel Marketer Report has a variety of different locations throughout the site to meet your needs.
Investment starting at $1,500 per month
Click samples above.
Text Advertising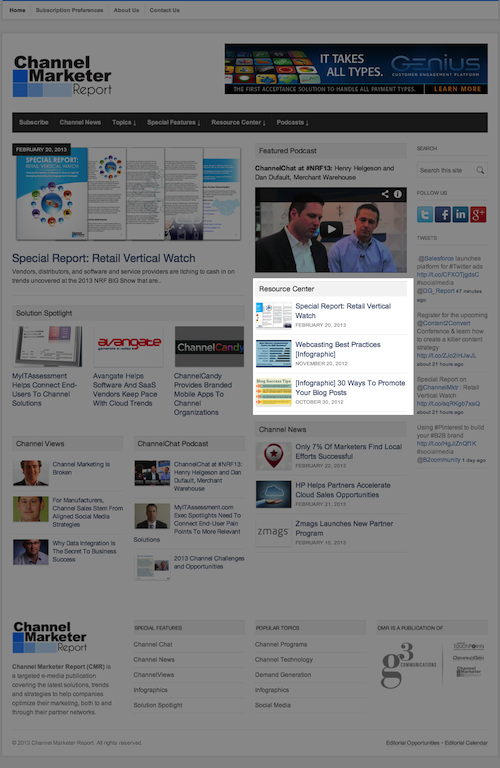 Sometimes simple text-based ads are even more effective than large banner ads. Channel Marketer Report offers text advertising space on both the web site and newsletter for an affordable price. Text ads work best for promoting new content, solutions or events that your company will be attending. A text ad package includes:
Text ads in 4 newsletters (4 months)
Text Ad on web site
Text Ad in Resource Center
Investment starting at $2,500
Click samples above.
Solution Spotlight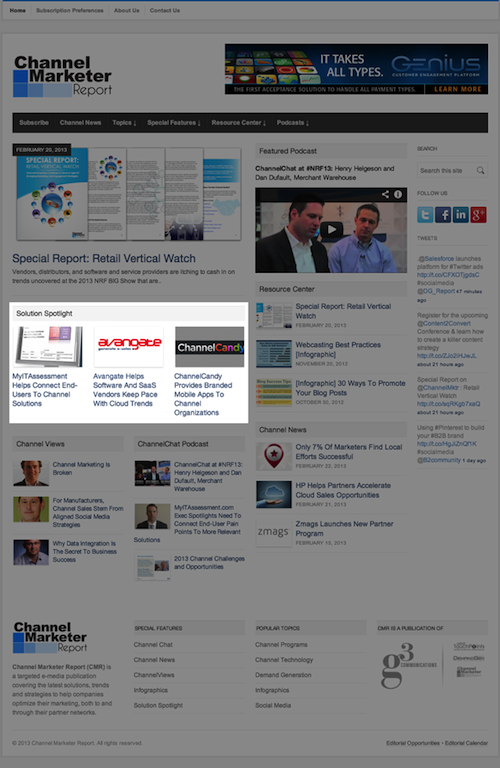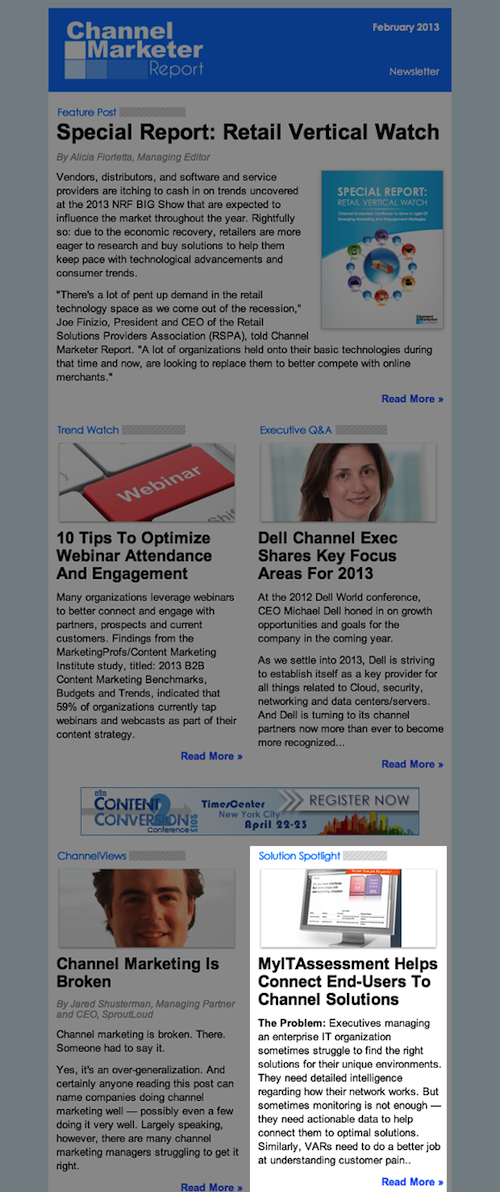 Channel Marketer Report has developed a program for solution providers who are looking to gain additional exposure for their CMR Solution Spotlight. All traditional Solution Spotlights include an edited version of the article, promotion in one issue of the CMR newsletter, and resides on the CMR site for two months. With the expanded version, solution providers will receive a full spotlight (up to 750 words), which will be promoted in the Channel Marketer Report Newsletter and posted on the web site. In addition you'll receive:
A PDF version of your Spotlight — which Channel Marketer Report will design and lay out the piece —  for use as reprints at trade shows and/or sales collateral;
Reprint rights for the digital version of the spotlight, to host on your corporate web site;
A gated version that will require prospects to fill out their contact information (name, company, title, email) to receive the full version; and
Exposure and promotion to the Channel Marketer Report audience (23k) via:

Text ads in the CMR monthly newsletter (1 month)
Text ads in the CMR monthly Digital Resource Center (1 month)
Social Media campaign (LinkedIn, Twitter, etc.)
Hosted on ChannelMarketerReport.com (1 month)
Investment starting at $5,000
Click samples above.